Join Amazon Prime – Watch Thousands of Movies & TV Shows Anytime – Start Free Trial Now
Amazon Prime Day
Prime Day is July 12-13 – Prime's biggest deals are back!!!
---
I'm getting ready for Amazon's Prime Day Deals & Offers… that are only for Prime Members. I've had Prime for years, and loved it the entire time. I've used it to order groceries, linens, kitchen appliances, shelving, speakers, even my Wonderful LG Gram computer!
I was amazed to learn Amazon offers Prime at about half price for low income people… which I am… with monthly billing. I totally TOTALLY love Amazon!
.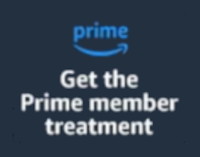 Join Amazon Prime – Watch Thousands of Movies & TV Shows Anytime –
Start Free Trial Now
Helpful Health Things
You know how it's helpful to have a cup if you want to drink coffee? or a glass if you don't want to drink out of a bottle or can? Well, there are a lot of helpful things re health besides choosing fruit or veg instead of a Mars Bar.
With Amazon Prime Day coming up, I'm thinking about things to benefit my health most, for the least spent. As an aside, if you don't have Amazon Prime, you might consider getting it not just for Prime Day but so you can always shop on line and get the things you order within a couple days without shipping costs.
6 quart Instant Pot
First off, there's the 6 quart Instant Pot, the modern version of a pressure cooker. Although I live alone, I'm thinking "6 quart" because the reviews for the 3 quart Instant Pot almost all said they wished they'd gotten the 6 quart. The 8 quart seemed to be off the radar for the majority of people. The main reason, health wise, to get an Instant Pot, is cooking meat with brown rice, FAST. On my stove it takes 4 hours. In winter that adds to the heat and humidity in my apartment, which is good. But in summer, there's no benefit to the longer cooking time's generous addition of steam to my apartment. Just as important, or even more so, is the fact that when I don't eat meat my finger nails are not as strong: they chip and crack. When I was young I put gelatin in Hawaiian Punch, which solves the problem, but these days I don't need the Punch calories!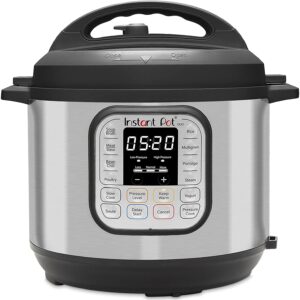 Comfortable Chair
Next, I need a comfortable chair. I have kitchen and task chairs. I don't have room for a sofa, though having one seems a lovely idea. My plan is to create a light and bright plant room where I can go to sit with my plants in the winter, and have coffee in the mornings.
So far the foil to reflect as much light as possible is going up and looking good. I'm also storing my pinto bean supply in a little bookcase I bought for the purpose, in case the food shortage thing becomes a reality.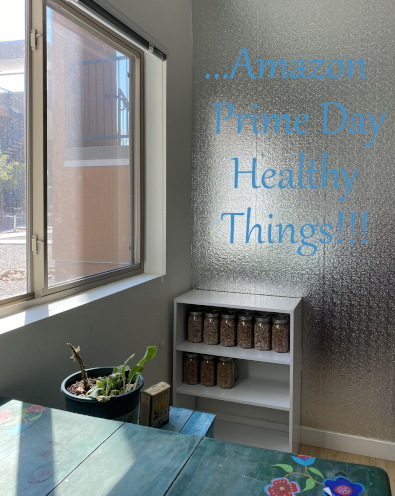 Now, I need a comfortable chair! When I searched "comfortable chair" on Amazon there were several attractive chairs, but their reviews said, "Not comfortable." On the other hand, when I searched massage chairs I found a few that were reviewed as "Comfortable." So now, I need to choose one if there's one on offer for Prime Day, with substantial savings.
Esright Massage Recliner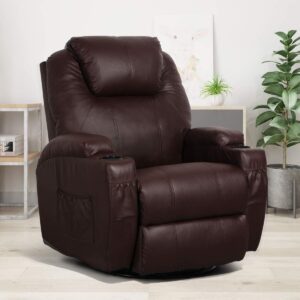 This Esright chair looks comfortable and inviting. Plus, it has 5,488 mostly very positive reviews. The worrying ones talk about having to pay for return, up to $300 when the chair didn't work as advertised. I called Amazon where a nice customer rep read me the return policy: the seller pays for returns if the item is defective. I love how this chair looks. The picture even has a bookcase in the background with a plant, making it look like it's already in my room! It's $295. with $29.99 shipping. So, it may not be a Prime item that would be on sale for Prime Day.
Cohoma Recliner Massage Chair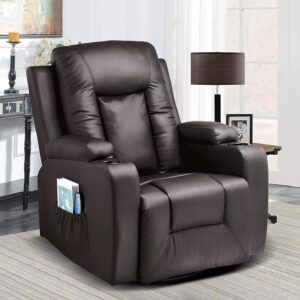 This Cohoma Recliner has 3,196 mostly positive reviews, Though, some people said it was "hard." Like the Esright, a lot of people say the massage and heat are faint, and the footrest isn't easy to operate. It's $319.99 with $28.99 shipping. Again, maybe it won't even have a Prime Day offer.
Economical Recliner Massage Chair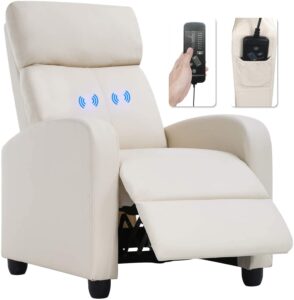 There are 9,131 reviews for this chair, most for the brown and black versions. Almost all are rave reviews, in many cases because of its low price: $199.99 with free Prime shipping for the brown, and $188.99 with free shipping, but not Prime, for the beige. One of the reviews for the beige showed Paris decals having been applied to the chair, making it look quite designer.

I was set on the puffy-soft looking Esright, which rather reminds me of Grandfather Kline's leather chair, except it had brass rivets. But the more I think about it, the more I think a light colored chair will benefit my plant room, where everything is about Light, for the good of the plants.
Chair cushions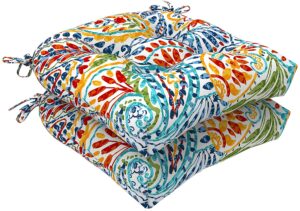 Although almost half the price of the chair above, this would add pizzazz! and five more inches of softness! $75.99.
One thing the Edge browser has turned me on to, is the very same products on Amazon with a lower price… $68.99.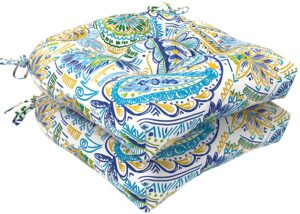 This is from the same company but is $68.99. It would tie in with my blue bench by the window, and the mustard color in the design might make it work better with the beige chair than the white.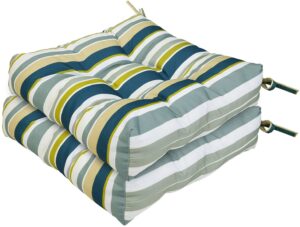 Among my outdoor cushions I've often found the stripes the most pleasing. These cushions are $35.99 with great reviews.