Astaxanthin gives lobsters, shrimp and flamingos their red coloring
10/22/2016 ~ I recently had proof that Astaxanthin (Pronounced Asta-xan-thin) prevents sunburn. Although I've been sure for a couple years that the reason I haven't gotten a sunburn, even in the spring when the sun lures me into its warmth for extended periods of time, my recent experience confirms the efficacy of Astaxanthin.
What happened is that I ordered a three pack of Hawaiian Astaxanthin from Amazon because there was a significant savings. When my order arrived, the Astaxanthin soft gels were clumped together at the bottom of the bottles, as if they'd gotten too hot, and fused.
I thought they might be okay, so I began using them. About three weeks later, I got a sunburn. Amazon kindly refunded my money and I sent what was left back and ordered a single bottle.
I'm guessing I need to use the good Astaxanthin for three weeks to build up the same resistance I previously had to sunburn. I'm almost there, but not quite judging from this morning when I was enjoying the sun until it suddenly began to feel hot in the way it does when it first begins to burn.
How I discovered Astaxanthin
Here's what happened:
My left hip began making a grinding sound when I got up. The sound worried me even though there was no additional pain. On the web I discovered that many people who experienced the grinding sound opted for surgery within a few years. Many weren't pleased after the surgery.
So I put the words "Hip Pain" into the search box where I bought supplements and was rewarded with some reviews referencing Astaxanthin.
The Astaxanthin reviews were positive; many said that health benefits of Astaxanthin included reduced hip pain and reduced pain related to exercise.
Other reviews said Astaxanthin kept them from getting sunburn.
I ordered some and began taking it in the morning. Then, after I learned that it's best absorbed when taken with fats, since it's fat soluble, I took it with a Flaxseed Oil softgel in the morning, and took another with my eggs scrambled in olive oil in the evening. (I also began using Glucosamine Chondroitin with MSM. One 4 capsule dose in the morning, another in the evening.) Eggs, Tryptophan and Sleep ~ Read more.
Astaxanthin made a difference
In a week astaxanthin made a difference. I'm hopeful that improvement will continue till I'm pain free and able to walk without my rolling walker. I also talk about Astaxanthin on my Pain page.
Astaxanthin is known to reduce inflammation, to be a high powered antioxidant, to kill h.pylori (which affects the stomach lining making it almost impossible to absorb vitamin B12 and magnesium from food. As an aside, h.pylori is known to cause ulcers that sometimes lead to cancer.
Astaxanthin provides natural sun protection which means you'll be able to get natural vitamin D while you use it, which is far different from using sun screens. I haven't had a sunburn since I began using Astaxanthin. Previously I always got sunburned when the weather invited me to stay out in the sunshine I'd missed all winter.
How is big Pharma using astaxanthin?
I find it very interesting to read pharmaceutical patents which appear to clearly recognize the potency of Astaxanthin:
Retarding and ameliorating central nervous system damage
Retarding and ameliorating eye damage
Treatment of autoimmune diseases
Treatment of dyspepsia (indigestion with heartburn or nausea)
Improving production a nd quality of semen
Method of prophylactic treatment of mastitis
Oral treatment of h.pylori in stomach lining
Improving muscle function
Treatment of muscle disorders
Retarding and preventing sunburn
Retarding and preventing fever blisters and canker sores
Retarding and ameliorating carpal tunnel syndrome
Normalizing circadian rhythm
As anti-hypertension agent
Treatment of stress
Inhibiting inflammation
Astaxanthin Research
Here Is Some Astaxanthin Research (primarily carried out on animals due to the newness of Astaxanthin):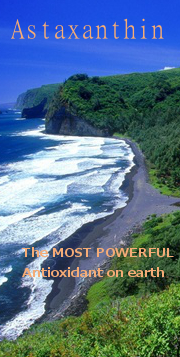 Safe
Trial results reveal that 6 mg of astaxanthin per day from a H. pluvialis algal extract can be safely consumed by healthy adults. Safety of an astaxanthin-rich Haematococcus pluvialis algal extract: a randomized clinical trial. J Med Food. 2003
Anti-inflammatory
Anti-inflammatory effect of 100 mg/kg AST (Astaxanthin) was as strong as that of 10 mg/kg prednisolone. AST also decreased production of NO, activity of inducible nitric oxide synthase (NOS), and production of PGE2 and TNF-alpha in RAW264.7 cells in vitro in a dose-dependent manner. CONCLUSIONS: This study suggests that AST has a dose-dependent ocular anti-inflammatory effect, by the suppression of NO, PGE2, andTNF-alpha production, through directly blocking NOS enzyme activity. Effects of astaxanthin on lipopolysaccharide-induced inflammation in vitro and in vivo. Invest Ophthalmol Vis Sci. 2003
Beneficial Effects in Diabetes
Results indicate that astaxanthin can exert beneficial effects in diabetes, with preservation of beta-cell function. This finding suggests that anti-oxidants may be potentially useful for reducing glucose toxicity. Astaxanthin protects beta-cells against glucose toxicity in diabetic db/db mice. Redox Rep. 2002
More Astaxanthin Research Gems
Astaxanthin Reduces Damage From Exercise ~ Astaxanthin can attenuate exercise-induced damage in mouse skeletal muscle and heart, including an associated neutrophil infiltration that induces further damage. Astaxanthin limits exercise-induced skeletal and cardiac muscle damage in mice. Antioxid Redox Signal. 2003.
Antitumor
Astaxanthin Improves Antitumor Immune Responses ~ We investigated the effects of astaxanthin on the antitumor effector activity of natural killer (NK) cells suppressed by stress in mice in order to define the immunological significance of astaxanthin (ASX) when combined with restraint stress treatment. Daily oral administration of ASX (1 mg/kg/day, p.o., 14 days) markedly attenuated the promotion of hepatic metastasis induced by restraint stress.
These results suggested that astaxanthin improves antitumor immune responses by inhibiting of lipid peroxidation induced by stress. Contribution of the antioxidative property of astaxanthin to its protective effect on the promotion of cancer metastasis in mice treated with restraint stress. Life Sci. 2002.
Astaxthing Protects Your Liver ~ Results suggest that astaxanthin protects liver from damage induced by CCl4 by inhibiting lipid peroxidation and stimulating the cellular antioxidant system. Effect of astaxanthin on the hepatotoxicity, lipid peroxidation and antioxidative enzymes in the liver of CCl4-treated rats. Methods Find Exp Clin Pharmacol. 2001.
Astaxanthin is Twice as Effective as Beta-carotene ~ Astaxanthin being about 2-fold more effective than beta-carotene. The efficient antioxidant activity of astaxanthin is suggested to be due to the unique structure of the terminal ring moiety. Efficient radical trapping at the surface and inside the phospholipid membrane is responsible for highly potent antiperoxidative activity of the carotenoid astaxanthin. Biochim Biophys Acta. 2001.
Lowers h.pylori levels
Astaxanthin Lowers Levels of h.pylori (Associated with Gastric Malignancies) ~ Helicobacter pylori infection in humans is associated with chronic type B gastritis, peptic ulcer disease, and gastric carcinoma.
A high intake of carotenoids and vitamin C has been proposed to prevent development of gastric malignancies…
Five mice from each group were sacrificed 1 day after the cessation of treatment, and the other five animals were sacrificed 10 days after the cessation of treatment. Culture of H. pylori and determination of the inflammation score of the gastric mucosae were used to determine the outcome of the treatment.
Mice treated with astaxanthin-rich algal meal or vitamin C showed significantly lower colonization levels and lower inflammation scores than those of untreated or control-meal-treated animals at 1 day and 10 days after the cessation of treatment. Lipid peroxidation was significantly decreased in mice treated with the astaxanthin-rich algal meal and vitamin C compared with that of animals not treated or treated with the control meal.
Both astaxanthin-rich algal meal and vitamin C showed an inhibitory effect on H. pylori growth in vitro.
In conclusion, antioxidants may be a new strategy for treating H. pylori infection in humans. Astaxanthin-rich algal meal and vitamin C inhibit Helicobacter pylori infection in BALB/cA mice. Antimicrob Agents Chemother. 2000.
Astaxanthin Reduces Gastric Inflammation ~ Helicobacter pylori (h.pylori) is a gram-negative bacterium affecting about half of the world population, causing chronic gastritis type B dominated by activated phagocytes.
In some patients the disease evolves into gastric ulcer, duodenal ulcer, gastric cancer or MALT lymphoma.
The pathogenesis is in part caused by the immunological response. In mouse models and in human disease, the mucosal immune response is characterized by activated phagocytes…
The aim of the present study was to investigate whether dietary antoxidant induced modulation of H. pylori in mice affected the cytokines produced by H. pylori specific T-cells.
We found that treatment of H. pylori infected mice with an algal cell extract containing the antioxidant astaxanthin reduces bacterial load and gastric inflammation. Treatment of H. pylori infected mice with antioxidant astaxanthin reduces gastric inflammation, bacterial load and modulates cytokine release by splenocytes. Immunol Lett. 1999.
[spoiler title="Antitumor Activity" style="fancy"]Results indicate that dietary astaxanthin suppressed Meth-A tumor cell growth and stimulated immunity against Meth-A tumor antigen. Antitumor activity of astaxanthin and its mode of action. Nutr Cancer. 2000[/spoiler]
Astaxanthin Inhibits Growth of Mammary Tumors ~ Beta-carotene, canthaxanthin and especially astaxanthin inhibit the growth of mammary tumors in mice; their anti-tumor activity is also influenced by the supplemental dose. A comparison of the anticancer activities of dietary beta-carotene, canthaxanthin and astaxanthin in mice in vivo. Anticancer Res. 1999.
Astaxanthin Provides Superior UVA Light Protection ~ Beta-Carotene, lutein and astaxanthin protect against UVA light-induced oxidative stress in vitro with astaxanthin exhibiting superior protective properties. Modulation of UVA light-induced oxidative stress by beta-carotene, lutein and astaxanthin in cultured fibroblasts. J Dermatol Sci. 1998.
Astaxanthin Has Chemopreventive Effects in Oral Carcinogenesis ~ The chemopreventive effects of two xanthophylls, astaxanthin (AX) and canthaxanthin (CX) on oral carcinogenesis induced by 4-nitroquinoline 1-oxide (4-NQO) was investigated in male F344 rats.
Rats were given 20 ppm of 4-NQO in their drinking water for 8 weeks to induce oral neoplasms or preneoplasms. Animals were fed diets containing 100 ppm AX or CX during the initiation or postinitiation phase of 4-NQO-induced oral carcinogenesis. The others contained the groups of rats treated with AX or CX alone and untreated.
At the end of the study (week 32), the incidences of preneoplastic lesions and neoplasms in the oral cavity of rats treated with 4-NQO andAX or CX were significantly smaller than those of rats given 4-NQO alone (P < 0.001).
In particular, no oral neoplasms developed in rats fed AX and CX during the 4-NQO exposure and in those given CX after the 4-NQO administration.
Similarly, the incidences of oral preneoplastic lesions (hyperplasia and dysplasia) in rats treated with 4-NQO and AX or CX were significantly smaller than that of the 4-NQO-alone group (P < 0.05).
In addition to such tumor inhibitory potential, dietary exposure of AX or CX decreased cell proliferation activity in the nonlesional squamous epithelium exposed to 4-NQO as revealed by measuring the silver-stained nucleolar organizer regions protein number/nucleus and 5′-bromodeoxyuridine-labeling index. Also, dietary AX and CX could reduce polyamine levels of oral mucosal tissues exposed to 4-NQO.
These results indicate that AX and CX are possible chemopreventers for oral carcinogenesis, and such effects may be partly due to suppression of cell proliferation. Chemoprevention of rat oral carcinogenesis by naturally occurring xanthophylls, astaxanthin and canthaxanthin. Cancer Research 1995.
Dr. Mercola points out the following about Astaxanthin and Eye Health:
GREATLY protects your eyes from cataracts, macular degeneration, and blindness
Science is now revealing that astaxanthin may be the ULTIMATE carotenoid for eye health and prevention of blindness. Blindness is an enormous problem worldwide.
Clinical studies tell us that photic injury from the cumulative effect of repeated "photic insults" and the resulting gradual loss of photoreceptor cells is a major cause of Age Related Macular Degeneration (ARMD).
Scientists have studied lutein, zeaxanthin, canthaxanthin, and astaxanthin for their respective abilities to protect the retina. But none functions to the degree that astaxanthin does.
Dr. Mark Tso of the Wilmer Eye Institute at Johns Hopkins has demonstrated that astaxanthin is the winner when it comes to protecting your eyes. He discovered that astaxanthin easily crosses into the tissues of the eye and exerts its effects safely and with more potency than any of the other carotenoids, without adverse reactions.
Specifically, Tso determined astaxanthin could ameliorate or prevent light induced damage, photoreceptor cell damage, ganglion cell damage, and damage to the neurons of the inner retinal layers.
Astaxanthin videos
Here's a video of Dr. Oz interviewing Dr. Mercola about Astaxanthin.
Here's Dr. Mercola's page on Astaxanthin and how it helps prevent cataracts. Read page.
Here's a video that has some excellent visuals on how Astaxanthin works. I like this video a lot despite the fact he doesn't tell us how he made the egg: The Astaxanthin Egg Experiment.