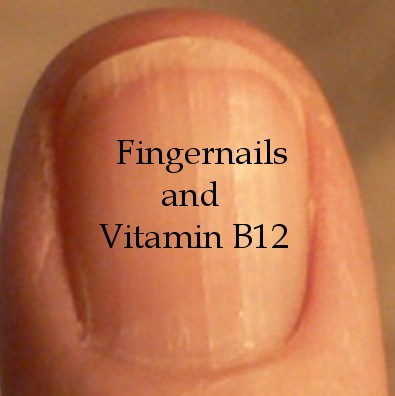 1/30/2021 ~ I noticed huge ridges on my fingernails a couple decades ago. I hadn't noticed the ridges developing, so it seemed as if they'd suddenly appeared.
My awareness failed me due to intense  stress from IRS threatening to take my home, totally ignoring proof I kept sending them that I'd paid. I know that's hard to believe, but US News and World Report used my experience in a piece they ran.
The stress caused sleeplessness. The stress and sleeplessness caused depression and finally a desire to end it all.
It was when thinking about killing myself that I noticed the ridges on my fingernails and that I no longer had moons. "Could that be related to how awful I feel," I wondered.
I did try to kill myself, which in a way was lucky because the ER's procedure was to give a B12 test to people who attempted suicide. My result was, "Profound Deficiency."
But, they didn't explain that to me because the police came and took me to jail for letting the chamisa, a wild sage in New Mexico, get too tall in my front yard. Yes, really.
When I finally found out about the test result I thought I could just buy B Complex vitamins and raise my level and everything would be find. But, that didn't work. Despite taking a B Complex tablet every 15 minutes to half an hour with a lot of liquid, my B12 level remained exactly the same.
There was a proverbial silver lining, though. Come fall flowering chamisa no longer gave me hayfever. It was glorious!!!! No more allergies!
But, without improving my vitamin B12 levels there was no change in my fingernails, and I forgot having wondered if there was a relationship between ridges on my fingernails and how I felt.
In time I had enough B12 to change my fingernails but I didn't have a camera to record the changes. So, I started my website in 2003 using a Yahoo graphic shaped like a finger.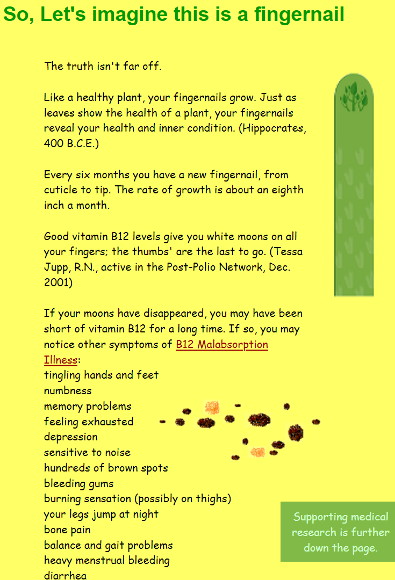 In 2006 I bought a camera that allowed me to show my fingernails and actual changes. On December 29, 2006, I took the photo at the top of this page. You can see the pictures I took that show the worsening of ridges and loss of moons from stress, and the improvement from using vitamin B12 and see what you think, for yourself.
I thought it was amazing and great that our fingernails reflect our innermost health. But on a health forum I frequented a woman constantly attacked me, saying that the only way to know, was to get a test. I kept replying that not everyone could afford tests. So, I added a page of signs/symptoms of low vitamin B12 levels. That way people could see if they had any of the symptoms she approved of as signs of low vitamin B12. And, I had a page of research re vitamin B12 and different symptoms.
All of this is to say… your fingernails could be showing you warning signs of low vitamin B12. The page of signs of low B12 levels is actually very helpful, as is the page of research. I mean, you may want to know if any studies have been done of some specific problem.
There's a page about Methylcobalamin which is easy to use because it's in lozenge form, and works better than shots, per research. And an important page on Foods with vitamin B12. Plus, there are a lot of other pages. : – )
I almost forgot to mention my current page on Vitamin B12 and Fingernails, "Your roadmap to health."

 Jarrow Methyl B12 5000 mcg